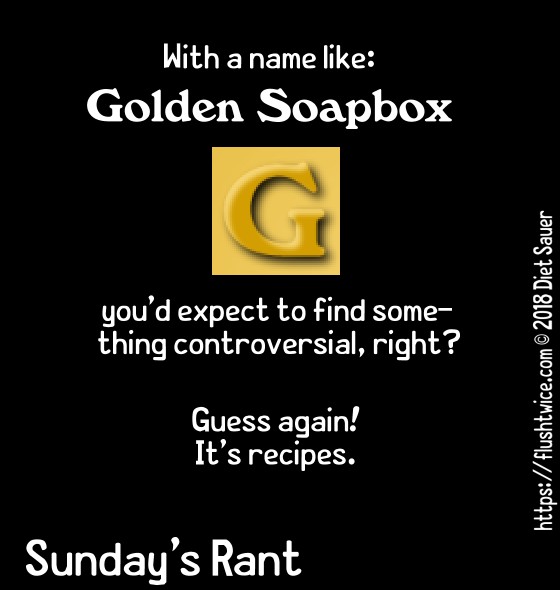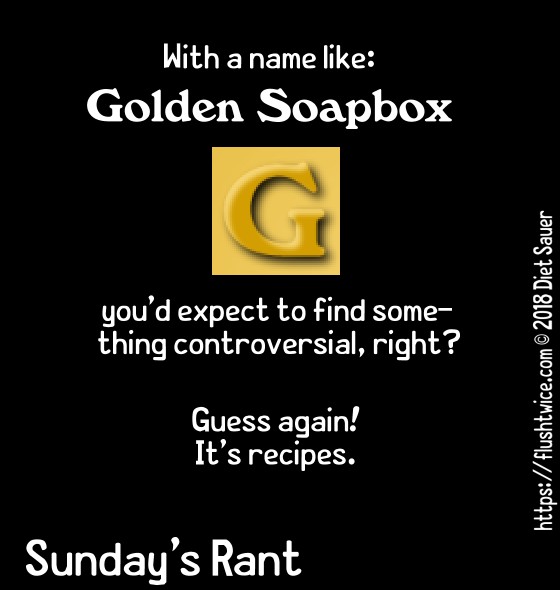 My Golden Soapbox
So I'm still in the process of cleaning it up, but I just wanted to mention one of my other sites, "Golden Soapbox". It originally began before Flush Twice, but I let it go after a few years. Then back in 2011, I re-registered it and tried to create a social networking site with it. Well, that wasn't working out either, so I just started blogging about a grab bag of topics.
As time went on, there was one subject that seemed to be the most dominant. My recipes. So I deleted everything else. Gone are the rants about Linux, hypothyroidism, product reviews, growing tomatoes, and general bitching. Now I'm up on my Golden Soapbox to show pictures of food that I made, and how I made it.
The recipes were originally haphazardly tossed onto the site, so some of the formatting is kind of ugly. Like I said, I'm cleaning it up, but I just thought I'd mention the site anyways. Now when I bring a dish and people ask about it, I'll just tell them I got it from Golden Soapbox (dot com).
Don't worry though, I'm not going to promote it like I do mBlip. Man, I really love that site. Let me know if you'd like an mBlip T-shirt.
Pax,

-f2x