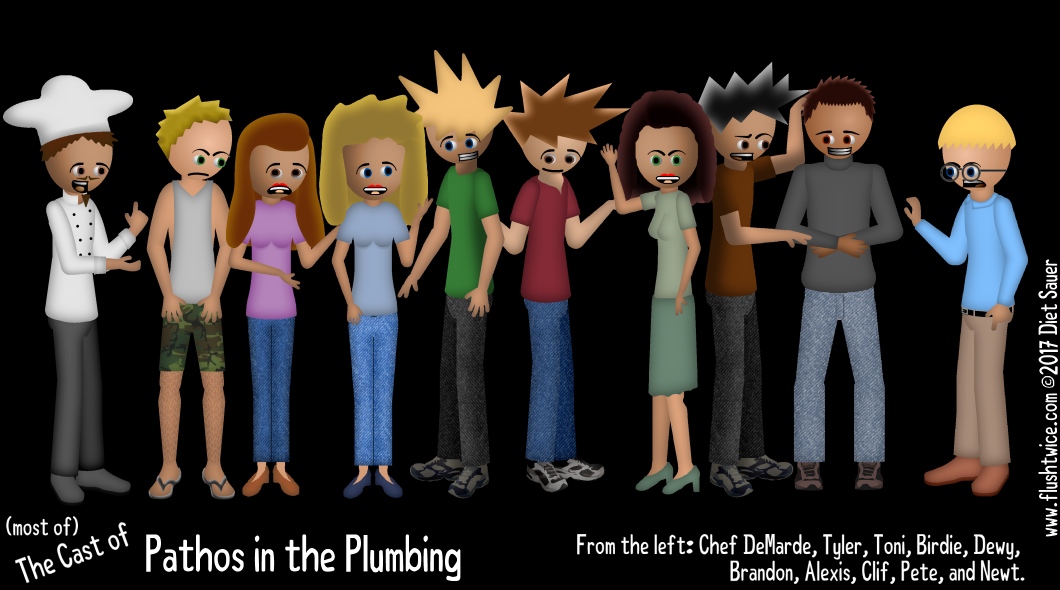 This page was last updated on August 31, 2017.
Believe it or not, the Character's Page is somewhat important, but moreso for me than for you. You see, I have created 15 characters, and that means I had to imagine 15 different lives. From their birth to their present, I imagined everything they have ever experienced. I remember the trophy they were so proud to get in 4th grade, to the time they ended up in the E.R. over something stupid. It would take me decades to write out each life, so I must distill their entire lives down to just a few short sentences that express their life experiences. This is not only to share their lives with you, but an exercise for me to get a better idea of what their world is all about.
First up,  there's Brandon Dogie (rhymes with hoagie). He has brown hair, brown eyes, and wears a red t-shirt. He is basically the IT department at a satellite branch for a multinational corporation. He live with his roommate, Dewey, in a house he bought. When he was younger he was rather promiscuous and aquired an unfavorable reputation among the local female population. Today he's in a rather kinky open relationship with Alexis, but longs for a more traditional relationship with a woman he can truly love.
Next up is Dewey Godette (rhymes with confetti). He is the blonde in a green shirt that lives with Brandon. He aspires to be a great chef and works as an assistant manager at a burger joint. Unfortunately he's a terrible cook who is the only assistant manager in the history of fast food to be barred from ever preparing the food. His love interest is Roberta (Birdie) Fisher, who hired Chef Jimmy DeMarde to teach Dewey how to cook.
Private First Class (PFC) Tyler Knaw is the snarky green eyed dishwater blond. Dewey met Tyler at work. Shortly after, Toni kicked him out of her place. Dewey felt sorry for Tyler and made him stay at Brandon's house. For a time he lived with Brandon and Dewey, but eventually they also kicked him out. Now he's back with Toni, and they still have a terrible relationship. Tyler is almost always horny and masturbates to excess. In spite of that he's still a minute man in the sack. Tyler doesn't like wearing clothes, but ironically he wears many outfits. Originally he used to wear pants and a gray t-shirt. After he joined the Army Reserves, he started wearing fatigues. He got a job for a package delivery company and wears a brown polo with shorts on the job. When he's not at work, he hangs around in a wife-beater, flip-flops, and camo shorts.
Alexis Eisburg is the CEO to the branch office where Brandon works. She has black hair and green eyes. She has an ongoing physical relationship with Brandon, and while Brandon is physically attracted to her, they don't actually share a loving bond. Alexis and Birdie met each other working for the for a top secret government agency that specialized in military espionage, but with that part of her life more or less behind her, she's focused on running the company and having her way with Brandon.
Birdie (Roberta Fisher) is a blond haired, blue eyed girl who's deceptively sweet. Since retiring from the espionage trade, she's lived a quiet, unassuming life. Her immense wealth ensures she will never have to work another day in her life, but keeps a modestly low profile. Birdie seems to have a mild dislike towards Brandon and Tyler, but she genuinely loves Dewey. Unfortunately like most people, she can't stand Dewey's cooking and even hired a chef to teach him. From time to time she goes out with her friend Alexis and mentors Toni.
Toni (Britney Antoinette Tidanse) is Tyler's "girlfriend", though they never seem to get along. Toni isn't known for being very bright. She's quite superstitious, and believes what she reads in the tabloid press. She shops at drug stores, dollar stores, and other discount stores. Her favorite color is neon. With a straight face, she will tell you that she never wears makeup, in spite of the fact that you can plainly see it on her face. She's a good person though, and she's starting to learn what it takes to get through this thing we call life… Bless her little heart.
Ben Aaron is the gray haired old man who's Transition lenses never fully lighten up. He's a retired veteran who used to own a small computer store that briefly turned into a hardware/sporting goods store. Today he's fully retired. He looked after Brandon and saw to it that Brandon got an education and a decent job. Brandon doesn't know that Ben is actually his biological father, and since everyone else who knew this secret is dead, only time will tell if Ben will reveal the real reason he cared for Brandon so much.
Clifton (Clif) Tuestien is Brandon's friend and coworker. This black haired brown eyed Jewish hipster is the head of the marketing department and keeps on top of all the latest office gossip. He also used to have a crush on Brandon, but he's currently in a relationship with Pete Scrapper in data entry.
Newt Estimate is a manager where Brandon works, and Brandon's immediate boss. The cocky eggheaded blond likes to march around barking orders and generally being unreasonable. Basically no one likes Newt because he never gives anyone a reason to like him.
Sergeant (SGT) Peter Scrapper is Tyler's NCOIC in the Army. He is also a data entry employee where Brandon works, a personal trainer in the evenings, and he's Clif's significant other. Pete is actually a laid back kind of guy who sounds a lot like Owen Wilson.
Chef Jimmy DeMarde was hired by Birdie to teach Dewey how to cook. Chef DeMarde is from France and will frequently utter things in French that are then mistranslated. If you want to know what he's actually saying, I'd suggest either Bing or Google translate.
Staff Sergeant (SSG) George Bromite used to be Tyler's NCOIC. He's about to be promoted to Sergeant First Class (SFC), and is currently in line to becoming his reserve unit's next 1st Sergeant. When he's not being a mighty super soldier, he's a local police officer. His wife Marilyn is a psychologist who works in a nearby penitentiary, and his teenage daughters are a never ending source of angst.
Staff Sergeant (SSG) Steven Bryan makes all the arrangements for the training schedules at the unit. He is a meticulously by-the-book soldier that handles everything according to the regulations to a fault, and can take anything the military bureaucrats can dish out. He works in Brandon's office building as an "Operational Auditor". Steven is married to a "stay at home mom" with an infant son.
Specialist (SPC) Marshal Brady is a surprisingly small 20 year old with brown hair and brown eyes. He's on Tyler's team in the detachment. Don't let his small size fool you. He scores a perfect 300 on every APFT, and can outrun anyone in the unit. He's also exceptionally bright and knows Army hardware forwards and back. Got a problem with the SINCGARS? Brady's your man. Need help with getting your gear squared away? Call Brady. He's currently attending the local community college.
Private 2nd Class (PV2) Micheal Grouper is of average height but is deceptively muscular and strong. He's 20 years old with red hair and pale blue eyes. He is a near perfect killing machine. As a full blown sociopath, Grouper lacks any feelings of fear, love, or joy, and especially any sense of guilt or remorse. He has an affinity for knives, and can turn anything into a shank. Grouper is actually good at following orders, so his superiors tend to overlook the fact that he is evil incarnate. His day job is going around and restocking vending machines.
OK, so that should cover just about everybody… Sometime in the future I'll include links from here to their individual pages.