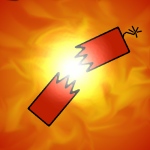 Still Plagued by Computer Woes
So if you tuned in on Friday… Oh wait, you couldn't have because the servers at IX Webhosting barfed, and Flush Twice was offline from 2:30pm Thursday until 6:30am Saturday.
Also, I decided to reformat/re-install my primary computer here at home on Thursday, so I was kind of out of the loop when it all went down. This computer is still having a connectivity issue I'm not quite sure how to handle, but overall it's working a lot better than it was when I took it out of service a while back.
My backup computer is is a netbook. I'm beginning to think it's infected with the Stuxnet virus because it thinks the cooling fan is an Iranian centrifuge. It's weird how the system temp goes really low- like around 40°C – and the fan is still in maximum overdrive. I'm going to have to take this one apart and go at it with some canned air.
And while Flush Twice is back online (for now), it's still doing something very weird backstage that I don't like. I may have to format and reinstall this one as well.
But for right now, at this very moment, things are working. It's Sunday and I want to take a day off to rest. I'll work on this stuff next Saturday, and perhaps the weekend after that as well. If it all goes to shit between now and then, you're on your own.
Pax,

-f2x