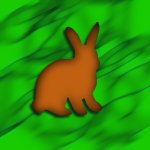 Happy Easter!
Of course with me, nothing is ever truly happy… It's not like the old days when I could just show up to the family Easter gathering, yap, and eat. Now I have to actually lend a hand in making the party happen, and you can believe with over twenty people coming, it's a lot of work.
So there's a new feature. I haven't thoroughly tested it yet, but the random post tab will take you to a random post. How cool is that? Of course since it's "random" it could take you to a comic, a joke, or even one of these sidebar rants of mine. It's random!
I'm going to try to keep up with the schedule for this week, but there's a possibility that I might not get the jokes up in time. As of this writing, the joke queue is bone dry, and since I'm going to be busy all day on Easter, you might have to entertain yourself on Monday with that fancy new random post tab.
Pax,

-f2x