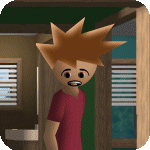 Just so you know, I actually write these sidebars before they get published, so sometimes I have to rely on what I think I would say if it actually were Sunday. Right now it's the Friday night before Sunday, so it's not that far out. Even though there aren't any jokes in the queue yet, I'm going to assume that by Sunday there will be, so let's just pretend the queue is ready to go and there's five jokes ready for the coming week.
A while back I deleted all the IP block-lists from the .htaccess file because I thought perhaps there might be people trying to visit through VPN's or even TOR. I figured the site's defenses were robust enough to hold its own against the hackers and spammers. It turns out I've been introduced to another internet scourge called scrapers. They basically rifle through the site and steal content. Even though this is mildly annoying, I'll allow it for now. While I don't agree with their methods, I don't claim to actually own the jokes I publish, so they're free to take them. In fact I maintain that all jokes are old jokes and predate most of the living.
Of course it goes from bad to worse… I can't tell if there were any VPN or TOR users trying to get at the jokes, so my internal analytics are once again useless. The statistic plugin that I use can't really tell a bot from a human, so I have no idea how many people actually visit the site. It would seem the humans are a mere drop in the bucket compared to all the bots out there.
Pax,

-f2x