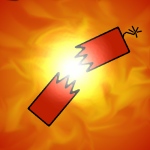 So much for that idea
A week ago Saturday, I decided to try posting jokes over the weekend to see if it would boost weekend visitors. The result? Fewer visitors not just on the weekend, but throughout the week as well.
So naturally this made me very unhappy. Nevertheless, I shall continue posting weekend jokes for the time being. To those of you who still bother to tune in, you're welcome.
Pax,

-f2x
PS: I'm done with the Pathos series…
…for now.