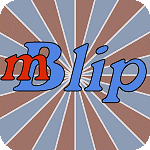 Yes, It's a Shameless Plug
So it's basically the only ad I ever run on this site. Once again I am promoting mBlip. If you haven't tried it lately, well, why the heck not?
Drawing from over 100 YouTube channels and growing, mBlip provides up to the minute videos from YouTube content creators. With the addition of more generalized categories, you can focus on subjects such as News, STEM, and Food. There's a lot going on every day, and it's amazing how it just keeps getting better and better.
So if you've never tried mBlip, you really ought to check it out, and if you haven't tried it recently, then give it another go already! It might just surprise you!
I've really put a lot of work into mBlip, and I really hope that people from all walks of life can get something out of it. If you have any suggestions about how the site could be made better, I'm very interested in hearing/reading what you have to say.
So for those of you who are regular mBlippers, I thank you! It's really been a fun site for me to build and grow. Again I just want to give a special thanks to Glenn and George for the jokes. Flush Twice would not be possible if not for the dedicated people who contribute the jokes to this site. You can contribute jokes here or by emailing them to flush2x@gmail.com.
Pax,

-f2x