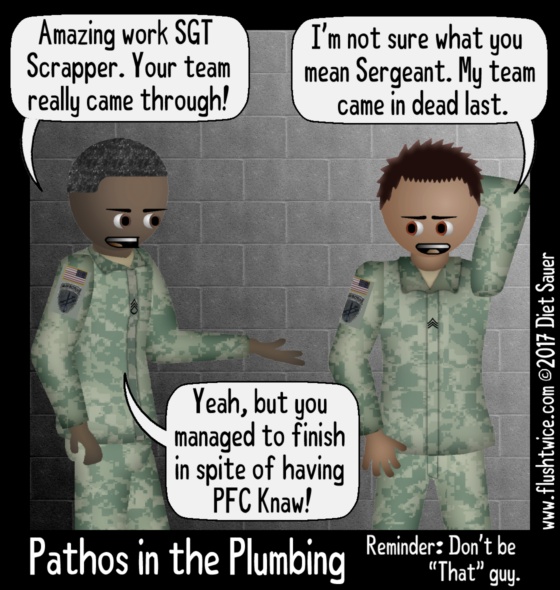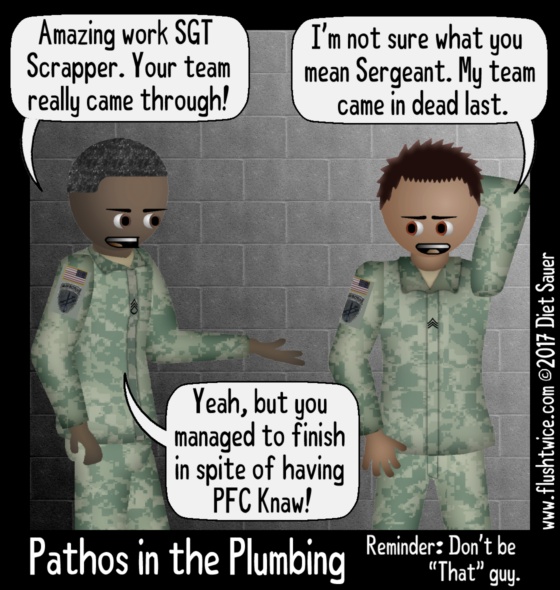 Maintaining Morale
Although I held my own in the Army, I wasn't even close to being in the top 50% of the soldiers I served with. Still, as long as I did my best, the First Sergeant (1SG) always made sure to make me feel like a winner after every drill. While achieving the standard was important, showing that you were putting in the effort and improving was also highly regarded.
Of course some soldiers are kind of… difficult to deal with. If you have "That" guy on your team during an exercise, you essentially have a handicap. At the end of the day, not succumbing to the temptation of "Friendly fire" is worthy of a medal. Meeting your objective at the same time is truly exemplary in these cases.
I recall being on a team with a "PFC Knaw" once down in Ft Polk. I was actually a replacement for another soldier who had gotten injured. The Sergeant's patience was wearing quite thin, and I found myself constantly trying to take up the slack because this private was habitually dicking off. After that month of hell, I was very glad to be off of that team and away from that soldier.
Sadly for SGT Scrapper, he's going to be stuck with Knaw for a very long time.
Pax

f2x