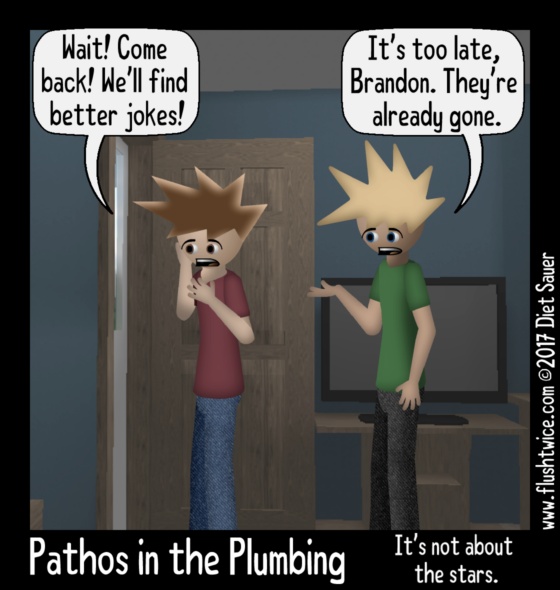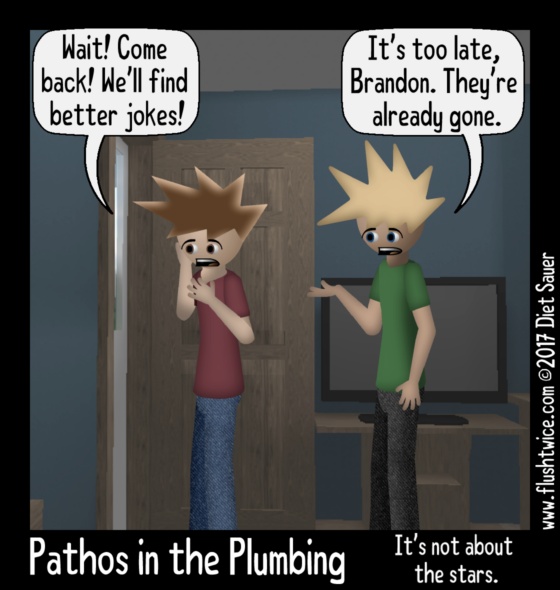 As Good as Dead
I never promote this site anymore, so inbound links are essentially non-existent. The only people who ever see this site are the few Britons still looking for "Ginger Jokes", and maybe one or two people that are drawn to this place more by their sense of morbid curiosity than their sense of humor. But there's even more to it than that…
Google hates Flush Twice, and without Google, Flush Twice might as well not exist. To understand why Google hates this site, you have to keep in mind that this site does not support SSL encryption (which is really important to Google these days), and all the jokes that get published here are already published elsewhere on the internet so Google thinks we're just copying other's people's stuff (which essentially we are). Combine those two strikes with the fact this comic and the "Sunday Rant" don't really have enough substance to get indexed, and suddenly we're dead in the water.
I can't really say I'm too surprised. Everyone else is on YouTube, Facebook, Twitter, reddit, and Pinterest. Getting anything featured there takes a lot of effort because of the intense competition, and if you don't get the protocol just right, the trolls will torpedo whatever it was you were trying to promote. It's just a stupid game with even stupider prizes, and I refuse to play.
So I finally managed to filter out all the bots in order to see who was actually visiting this site, and it looks like you and I are the only ones left.
Pax

f2x